COMMENT ORGANISER UNE SOIRÉE ANNÉES 90 :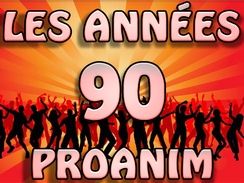 Signe des temps et des générations qui passent, après les années 80, voici venir la tendance des soirées années 90.

Considérées par beaucoup comme les années "dance", les années 90 témoignent aussi d'un large éclectisme musical, qui va de la techno au rock grunge en passant par le rap, mais aussi par les fameux et inoubliables boys-band !

Si vous organisez une soirée années 90, vous allez faire inévitablement plaisir à vos invités "quadra" qui avaient vingt ans à l'époque de la Macarena.

Retrouvez les années 90 lors d'une soirée hors du commun !
PROANIM vous propose LA soirée années 90 ! QUE DU PUR 90's !
Si vous voulez organiser une soirée à thème 90, faites confiance à ceux qui étaient déjà aux platines et dans l'ambiance pendant ces années-là, et qui par conséquent ont la culture musicale nécessaire...

Pas à ceux qui étaient encore en couches-culottes à l'époque hi ! hi ! hi !
Pour les amateurs, voici les plus gros tubes DANCE et TECHNO qui ont marqué les années 90. En plus de tous les titres pop-rock de cette période, ils font bien entendu tous partie de notre play-list 90's ! Rappellez-vous !
PLAY-LIST 90 TUBES DANCE ET TECHNO DES ANNÉES 90 :
1989 :
Black Box Ride on time - Snap The power - Technotronic Move this - S. Express Theme from S.Express - Redhead Kingpin Do the right thing - Big Fun Blame it on the boogie - Joe Smooth Promised land - Adeva I thank you - Sydney Youngblood If only I could - Lil Louis French kiss - Bassline Boys On se calme - Raze Break 4 love - Coldcut & Lisa Stanfield People hold on - One O One Rock to the beat - Coldcut Doctorin' the house - Technotronic Pump up the jam - Twenty 4 Seven I can't stand it.

1990 :
Age of Love The age of love - Quadrophonia Quadrophonia - C and C Music Factory Gonna make you sweat - Cartouche Feel the groove - Dee Lite Groove is in the heart - Snap Ooops up - Black Box Everybody - Soupdragons I'm free - Londonbeat I've thinking about you - Adamski Killer - Benny B Mais vous êtes fous - Dana Dawson Romantic world - D.N.A. ft Suzanne Vega Tom's diner - Madonna Vogue - Lonnie Gordon Happenin' all over again - Seal Crazy - DNA La Serenissima - Snap Cult of snap - EMF Unbelievable - Ice MC Cinema - Double Dee Found love - Latino Party The party - MC Hammer U Can't touch this - MC Sar and The Real Mc Coy It's on you - Rozlyne Clarke Eddy steady go - Technotronic Get up - FBI Project Rich in paradise - The KLF What time is love - Nick Kamen I promised myself.

1991 :
2 Unlimited Get ready for this - Laurent Garnier French connection - Crystal Waters Gypsy woman - Lonnie Gordon I'm gonna catch U - Ce Ce Peniston Finally - 2 Horns Réveil trompette - Army of Lovers Crucified - De La Soul Ring ring ring - Enigma Sadeness - Chimo Bayo Asi me gusta mi - Pleasure Game Le dormeur - L.A. Style James Brown is dead - Moby Go - Stefano Secchi ft Orlando Johnson I say yeah - Rozalla Everybody's free - The KLF Justified and ancient - East Side Beat Ride like the wind - Pleasure Game Le Seigneur des ténèbres.

1992 :
2 Unlimited No limit - Ace of Base All that she wants - Rozelyne Clarke Eddy steady go - Clubland Hold on - Leila K Open sesame - Bass Bumpers The Music's got me - Cappella U got 2 know - Jordy Dur dur d'être bébé - Rozalla Are you ready to fly - Pleasure Game Activez les plaisirs - Captain Hollywood Project More and more - Coro Because the night - Dance 2 Trance Power of american natives - Double You Please don't go - Dr. Alban Sing halleluja - Felix Don't you want me - Haddaway What is love - Jaydee Plastic dreams - Nightcrawlers Push the feeling on - Not Real Presence Chiki Chika - Pin-Occhio Pinocchio - Robin's Show me love - Snap Rythm is a dancer - Jesse Lee Davis Is this love - Lamott Atkins How you make me feel - U96 Das boot - Usura Open your mind.

1993 :
2 Unlimited Tribal dance - Cappella U Got 2 let the music - Captain Hollywood Project Only with you - Carpe Diem Snake charmer - Capricorn 20 Hz - Corona The rhythm of the night - Culture Beat Mr vain - Robin S Show me love - East 17 It's alright - Egma Never gonna loose your love - E.x.p. Before the night - G.O. Culture Darla Dirladada - Haddaway Life - Haddaway Rock my heart - M People Movin'on up - Maxx Get a way - MC Sar & The Real Mc Coy Automatic lover - Pin-Occhio Tu tatuta tuta ta - Pleasure Game Le petit chien qui fume - Quench Dreams - Le Park Litchies - The Joker's Cow boy - Tom Wilson Technocat - Whigfield Saturday night.

1994 :
Yves Deruyter Calling earth - 20 Fingers Short dick man - Cappella U and me - Captain Hollywood Project Flying high - Dr Alban Let the beat go on - Drax Ltd II Amphetamine - E-Type This is the way - Einstein Doctor DJ Elektro woman - Rednex Cotton Eye Joe - Ice MC It's a rainy day - John Scatman Scatman - Legend B Lost in love - Masterboy Feel the heat of the night - Mo-Do Eins zwei polizei - Playahitty The summer is magic - Ramirez Bomba - Reel 2 Real I like to move it - Scooter Hyper hyper - Scooter Move your ass - The Bucketheads The bomb - TH Express I'm on your side.

1995 :
Emmanuel Top Acid phase - Dee Rex Soilent green - Ovation The book of revelation - Green Velvet Flash - 740 Boys Shimmy shake - Boris Soiree disco - Cappella Tell me the way - Corona Baby baby - Interactive Living without your love - 20 Fingers Lick it - Corona I don't wanna be a star - Corona Try me out - Celvin Rotane I believe - Size 9 I'm ready - Lil Mo Yin Yang Reach - Montini Experience My house is your house - Sister Queen Let me be a drag queen - Ruffneck Everybody be somebody - Faithless Insomnia - Ice MC Take away the colour - John Scatman Scatman world - La Bouche Be my lover - Masterboy Anybody - Outhere Brothers Boom boom boom - Robert Miles Children - The Mackenzie ft Jessy I Am Free - Josh Wink Don't laugh - Whigfield Saturday night.

1996 :
Jeff Mills The bells - Space Frog Follow me - Bbe Seven days and one week - Emmanuel Top Turkish bazar - Boris Miss camping - Everything But The Girl Missing - Sex Alarm Siren - Da Hool Meet her at the love parade - Tori Amos Professional widow - Sweet Drop Human nature - Daft Punk Da funk - Gala Freed from desire - Robert Miles One and one - Sash Encore une fois.

1997 :
Laurent Garnier Crispy bacon - 666 Alarma - Antiloop In my mind - Aqua Barbie girl - Lighthouse Family Raincloud - Daft Punk Around the world - Prodigy Smack my bitch up - Dj Fred & Arnold T. Pop hertz - Members of Mayday Sonic empire - Milk Inc La vache - Pills Rock me - Sash Ecuador - Space Frog Follow me - Ultra Naté Free - Phénoménal Club Il est vraiment phénoménal.

1998 :
666 Amokk - Alice Deejay Better off alone - Bjork Bachelorette - Madonna Frozen - Dj Dado Give me love - Cher Believe - The Tamperer Feel it - Faithless God is a dj - Mousse T Horny - Eiffel 65 Blue - D. Vision Funky - Storm Storm - Stardust Music sounds better with you - Vengaboys Up and down.

1999 :
Armand Van Helden You don't even know me - Dj Fou Je met le waï - Darude Sandstorm - Moloko Sing it back - Paul Johnson Get get down - Tom Jones and Mousse T Sex bomb - Alice Deejay Back in my life - Whitney Houston It's not right but it's okay - Eiffel 65 Move your body...
et puis au début des années 2000 : Lady Easy love - Galleon So I begin - Superfunk Lucky star - Modjo Lady - The Supermen Lovers Starlight ou encore K. Maro Femme like you et Tragédie Hey ho, tellement énormes que l'on ne pouvait pas ne pas les citer !

Pour compléter ce listing dance et techno, nous vous livrons également les plus gros tubes "R'n'B" ou alternatifs des années 90. En vrac ! :

Coolio Gangsta's Paradise - Fugees Oh la la la - Afroman Because I got her - Shaggy Boombastic - Arrested Development Everyday people - Luniz I've got 5 on it - I am Petit frère - Def Bond & K-Reen Tu me plais - Fonky Family Bad boys de Marseille - Bouga Belsunce breakdown - Dr Dre Ring ding dong - Fugees Killing me softly - Shabba Ranks Mr loverman - Mc Solaar Caroline - Keziah Jones Rythm is love - Jamiroquai Virtual insanity - Maxi Priest Close to you - Tonton David Peuple du monde - Beats International Dub be good to me - 2 Pac California love - Mark Morisson Return of the mack - Menelik Tout baigne - Menelik Bye bye - Warren G Regulate - TLC En vogue - Shanice I love your smile - Skee Lo I wish - Black Box Fantasy - Soul II Soul - Back to life - Zhané Groove thang - George Michael Fast love - I am Je danse le mia - Roman Photos Sounds of summer - Charles & Eddie Would I lie to you - Ini Kamoze Here comes the hotstepper - Crooklyn Clan Love like this before - Mellowman La voix du mellow - De La Soul Ring ring ring - Lisa Stanfield & Barry White All around the world - Jazzy Jeff & The Fresh Prince Boom shake the room - Black Machine How gee - Alliance Ethnik Simple et funky - Alliance Ethnik Respect - Reciprok Balance toi - Will Smith Getting' jiggy with it - Stereo Mc's Connected - Salt'N Pepa Let's talk about sex - N Trance Stayin' alive - CJ Lewis Ride to the A - Montell Jordan This is how we do it - Bobby Brown Humpin' around - Ophélie Winter Dieu m'a donné la foi - Will Smith Men in black - House of Pain Jump around - De La Soul Saturday - Heavy D - This is your night - Incognito Always there - Jamiroquai Space cowboy etc... !
A tous ces tubes "dance" il faut bien sûr ajouter l'énorme quantité de titres pop-rock parus dans les années 90, et cette page n'y suffirait pas... Avec des groupes comme Nirvana, Red Hot Chili Peppers, Rage Against The Machine, Offspring, R.E.M., Oasis, ou bien encore des artistes tels que Jamiroquaï, Lenny Kravitz ou Coolio, qui sont tous emblématiques des nineties.

Proanim vous propose une soirée où vous pourrez retrouver tous les courants musicaux et tous les succès des années 90 ! Avec aussi un Quiz années 90 et un karaoké années 90 !

Et puisque les souvenirs ne sont pas seulement dans la musique, mais aussi dans les évènements, voici quelques uns des faits les plus marquants dans l'actualité des années 90.
Amusez-vous à faire deviner ces dates à votre entourage !
- 1990 : Le premier Mac Donald ouvre ses portes à Moscou. Nelson Mandela est libéré après 27 ans de prison. Au recensement, les Français sont 58,4 millions. Les ventes de cds dépassent celles des disques vinyl. L'Irak envahit le Koweit. Réunification de l'Allemagne. Démission de Margaret Thatcher.

- 1991 : Guerre du Golfe. Première vache folle en France. Mort de Serge Gainsbourg, de Yves Montand et de Freddy Mercury le chanteur de Queen. Boris Eltsine élu président de Russie. Indépendance de la Slovénie et de la Croatie. Gérard d'Aboville traverse le Pacifique à la rame. L'U.R.S.S. disparaît, la C.E.I. lui succède.

- 1992 : Annulation des élections législatives en Algérie. Traité de Maastricht. La Cinq cesse d'émettre. Ouverture d'Eurodisney. Catastrophe du stade de Furiani. Début du procès du sang contaminé. Loi sur le harcèlement sexuel. Bill Clinton est élu président des U.S.A.

- 1993 : Quinze sdf meurent de froid à Paris. Mort de Cyril Collard et de Federico Fellini. France Télécom lance le téléphone Be-Bop. Suicide de la secte de Waco avec 86 morts. L'O.M. remporte la coupe d'europe. Prise d'otage dans une maternelle à Neuilly. Première carte du génome humain.

- 1994 : Naissance d'Infomatin. Les jeunes manifestent contre le CIP. Kurt Cobain, chanteur de Nirvana se suicide. Premier Sidaction. Inauguration d'Eurotunnel. Arrestation du terroriste Carlos. Mort de l'ex-président des Etats-Unis Richard Nixon. Le Brésil remporte la coupe du monde de football.

- 1995 : Tremblement de terre à Kobé au Japon. Attentat au gaz sarin à Tokyo. Pierre et Marie Curie au Panthéon. Jacques Chirac élu président. Reprise des essais nucléaires. Bombe à la station Saint-Michel. Lancement mondial de Windows 95. Acquittement de O.J. Simpson.

- 1996 : Mort de François Mitterand. Les sans-papiers à Saint-Ambroise. Mort de Marguerite Duras. Incendie à Paris du Crédit Lyonnais. Début de l'affaire du pédophile Marc Dutroux. N.T.M. condamné par les juges. Bill Clinton réélu. Divorce de Stéphanie de Monaco. Naissance des séries Urgences et X-Files

- 1997 : Mort de Franquin le dessinateur de Spirou et de Gaston Lagaffe. Assassinat du rappeur Notorious Big. Sortie du film Le Cinquième élément, de Men in black et de La vérité si je ments. Mort du Commandant Cousteau, de Mère Térésa, et de Lady Diana dans un accident de voiture à Paris.

- 1998 : Sortie en France du film Titanic de James Cameron et du Diner de con. Arrestation du dictateur Augusto Pinochet. Décés de Yves Mourousi, Haroun Tazieff et Jean Marais. Famine au Soudan. Naissance de Google. Scandale Bill Clinton et Monica Lewinsky. La France championne du monde de foot. Commercialisation du Viagra

- 1999 : Eclipse totale de soleil visible en France. Entrée de l'euro sur les marchés financiers. Mort de l'humoriste Elie Kakou, du réalisateur Stanley Kubrick et du présentateur météo Alain Gillot-Pétré. Naufrage de l'Erika et marée noire en Bretagne. Tempête en France avec d'énormes dégâts.

... Tout ça "agrémenté" des insupportables séries télé des tristement célèbres AB Productions : Premiers Baisers, Hélène & les garçons, Le miel & les abeilles, Les filles d'à côté et compagnie !

Chaque génération a ses "boulets" ! ;-)

... Et après les soirées années 90, bientôt la suite avec les années 2000 !

HAUT DE PAGE
Accueil | Devis Dj Tarifs | Animations | Dj mariage | Dj à domicile | Karaoké | Dj Gap | Dj Sisteron | Société | Photos